Cameras have an elaborate history, art and science that was vast enough to be represented in a space of its own. Not many are aware of it and a lot who wish to know don't have the access. Aditya Arya, a historian and a veteran photographer wished to create this on a plot given by the Municipal Corporation of Gurugram.
Solution
An interactive multilayered Museum that captures all aspects of photography under one roof.
Story
A veteran photographer, Aditya Arya had started collecting cameras as a hobby during his travels 40 years ago. He believed that cameras have a long, interesting history that needs to be widely appreciated. This led to Arya's collaboration with Municipal Corporation of Gurugram in 2016 to set up a museum complete with galleries, dark rooms, seminar halls, shops, a cafeteria and a library. The corporation provided an unused shed for the project. At this juncture Incubis was called on board to conceptualize the space and the narrative based on Arya's dream museum plan and the unusual constraints of the site and existing structure.
The design solution was to create a structural endoskeleton within the existing shell to create galleries and venues at multiple levels along with an elevator to provide accessibility to all. This structure, a combination of steel sections and space frames has been left exposed so celebrate the intricate engineering. Another lightweight structure was added to skin the resultant building and give it it's unique identity. The design solution is visually intriguing yet absolutely essential in character so that the concept could be realized swiftly and at minimal cost.
To make an impactful and memorable space, the idea evolved to going beyond mere galleries to creating an interactive space with multiple possibilities. The space was envisioned in a manner that would provide showcase the inner workings and history of cameras and analog pictures, take pictures through these cameras, develop prints in dark rooms and exhibit them in galleries. Incubis helped Arya realize his vision to create an enduring resource that nurtures creativity and helps the new generation respect the craft of photography.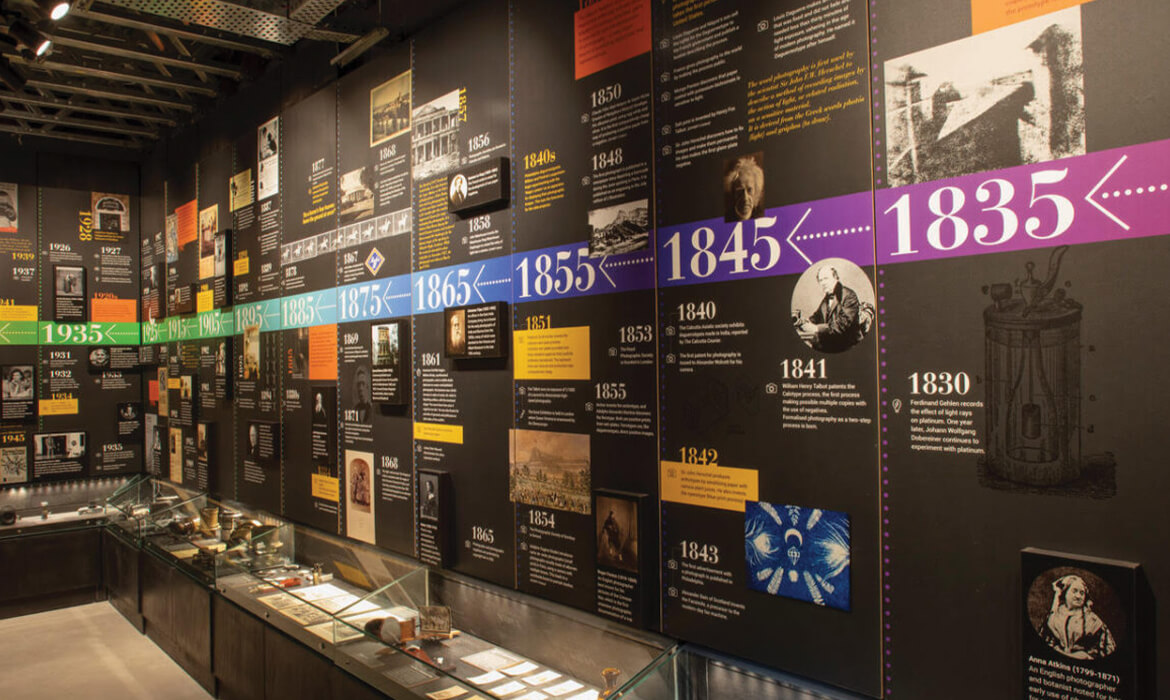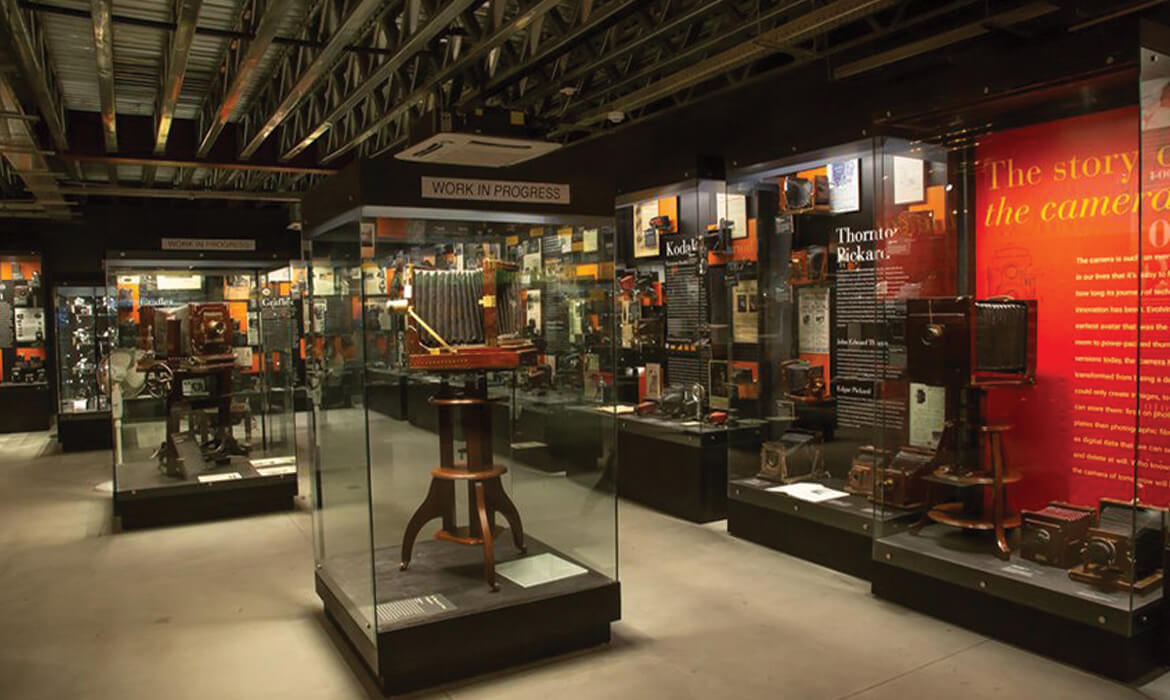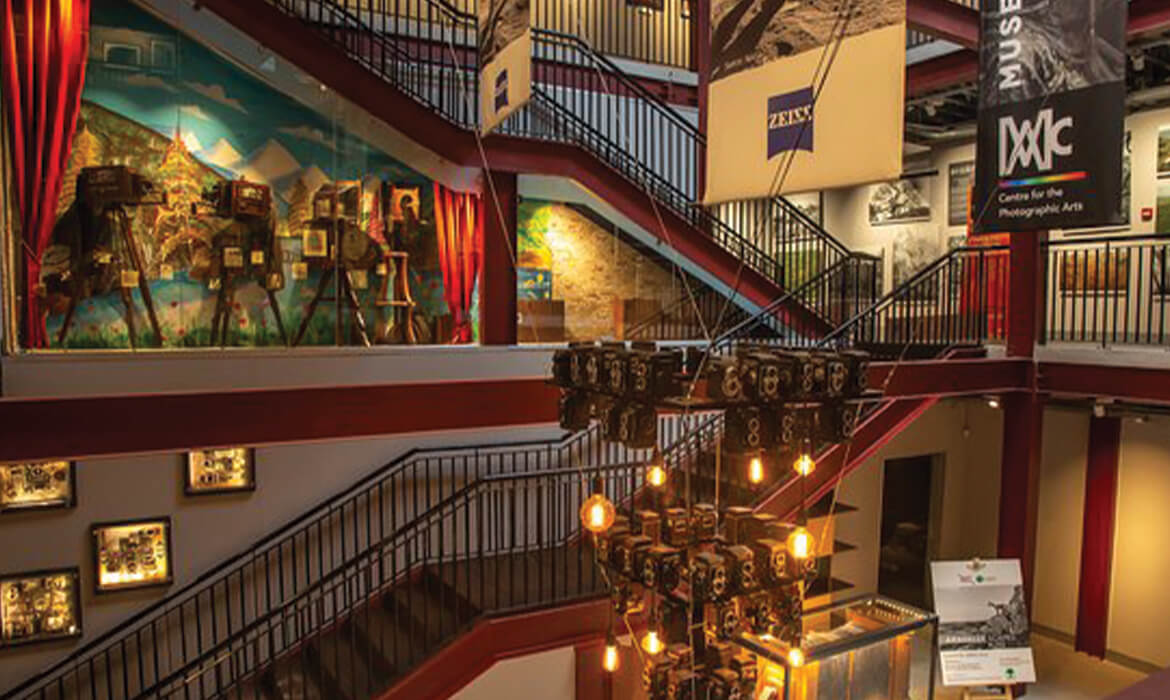 A striking larger than life portrait of an Indian dancer taken by a French photographer in 1870 welcomes every visitor as the main gate. A chandelier made with over 50 twin-lens Yashica cameras makes a magnificent centerpiece in the voluminous lobby. With cameras used in every segment of the space, Museo Camera boasts of over 2500 cameras under one roof. The ground floor has two galleries featuring vintage collections from the world of photography, including advertisements, accessories and patents. It also presents an elaborate timeline that mentions inventions of varied technologies and the influence of art movements on photography along with the dark room, a street-portraiture studio and cafe. The floor above covers two exhibition galleries and a Lecture Hall. Followed by the Herschel Lecture Hall (named after the Englishman who invented the blueprint, among other things), a small library, a resource center, and the Aperture and Shutter Lounges. The space welcomes every visitor and leaves them more curious about the subject than ever before.