Opportunity
KFC has a very prominent branding that it uses all across its stores, yet wishes to stay relevant to the rapid evolving aspirations of its customers and locations they are based in.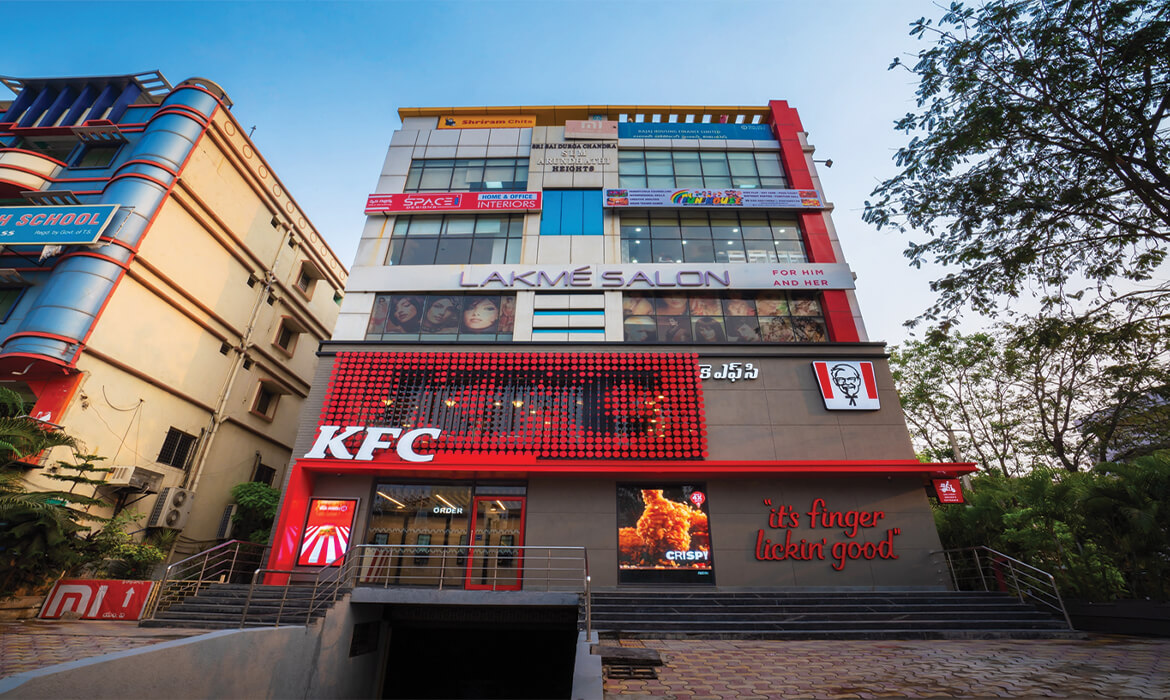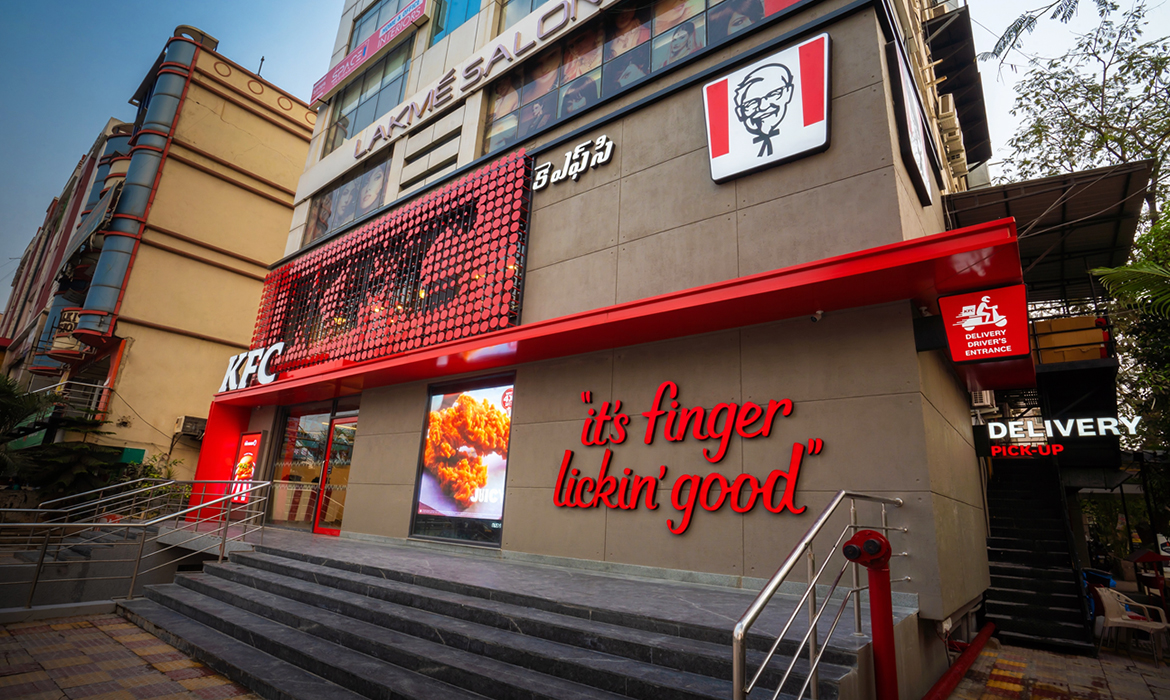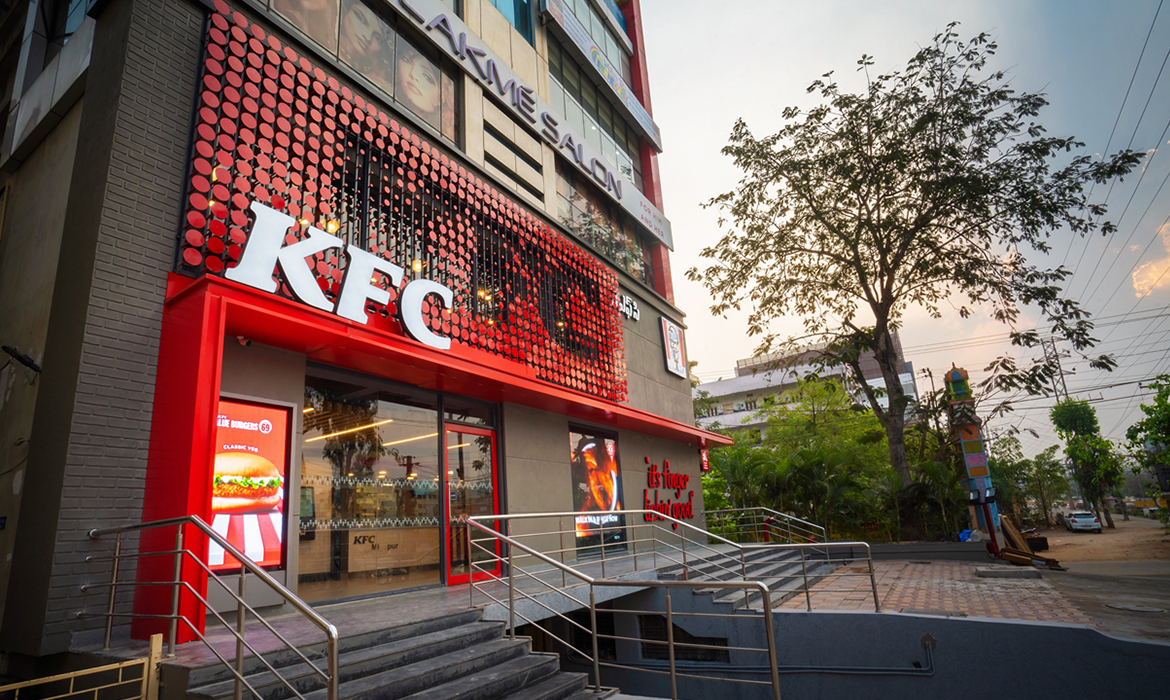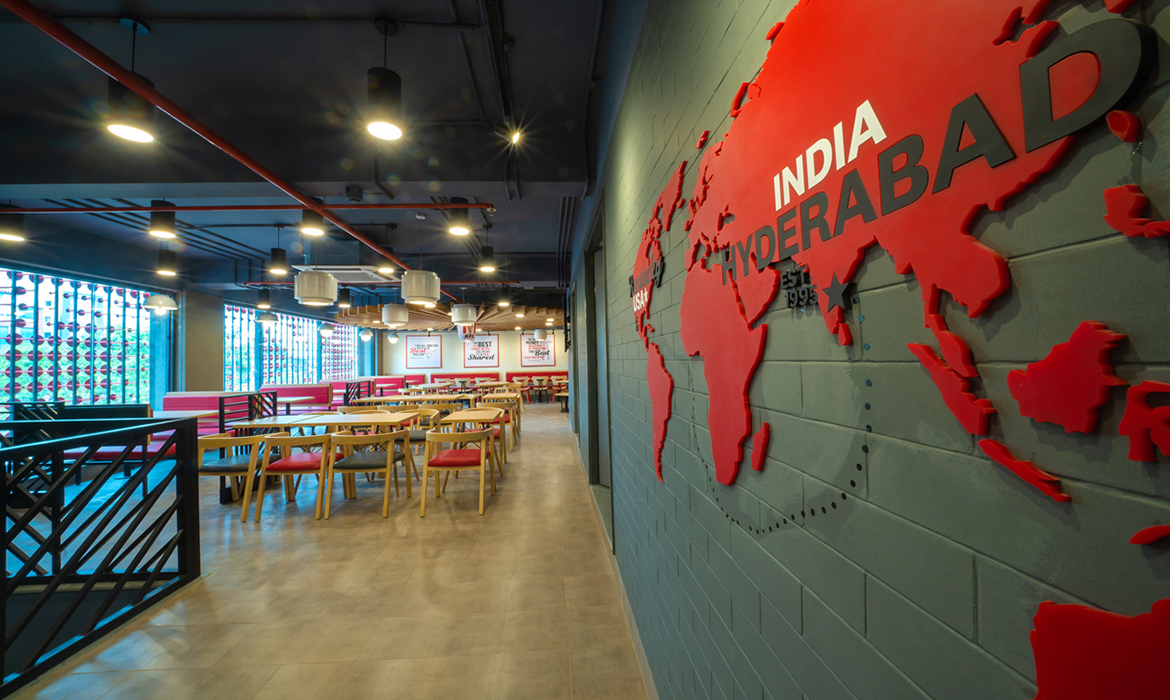 Solution
A chain of flagship stores that resonate the progressive mindset and innovative culture of Hyderabad.
Story
KFC is the second largest fast food chain with 22,621 locations globally in 150 countries. India has around 350 KFC across the country. It promises to always stay relevant to the rapidly evolving aspirations of customers. The flagship stores designed by Incubis at Hyderabad reflect this to the core and set the tone for the future of the KFC experience as more digital, more connected, and more local, while bringing an iconic global experience to India. These flagship stores will take KFC to the next level and deliver an enhanced, customized and immersive design language that remains friendly and familiar whilst exploring new creative themes.
Set amidst the technology hub of the country, the KFC pixel façades pay homage to the progressive mindset and digital innovations that the people Hyderabad embody. The façades are composed of numerous pixels or linear elements that come together to form the KFC brand through harmonious, three dimensional patterns in an intriguing, unusual and abstract way. These pixels generate curiosity, compelling passersby to pause, absorb, think and decipher. In this moment of capturing the pixels of the façade through the pixels of the phone- the big reveal happens! From the inside, these parametric pixels and angled louvres screen the interiors from the glare and heat of the sun to provide a pleasant ambience while complementing the interior theme. There are multiple facets to the technological interventions that have gone into conceiving the façade. Algorithmic programming has been deployed to design the varying pixel sizes and projections, their patterns, rotation within the façade. These modular elements are pre-engineered which helped deploy the concept swiftly and with incredible ease. Innovative, tech-driven, sustainable yet simple and elegant – the iconic KFC façades truly encapsulate the new age Hyderabad!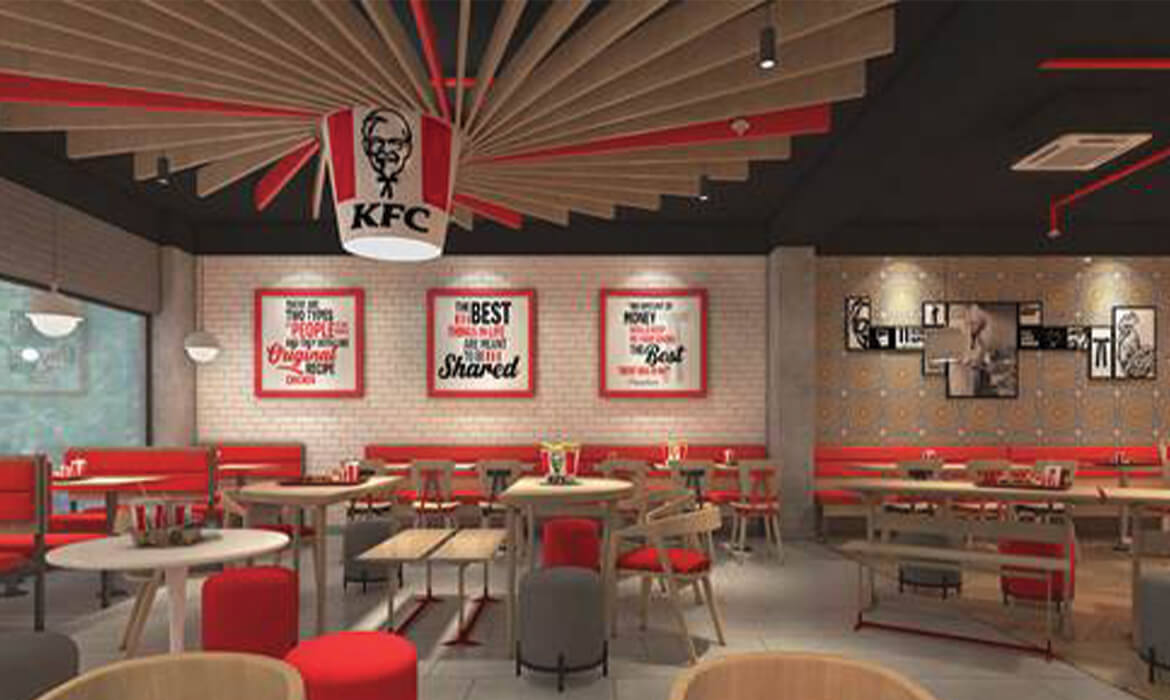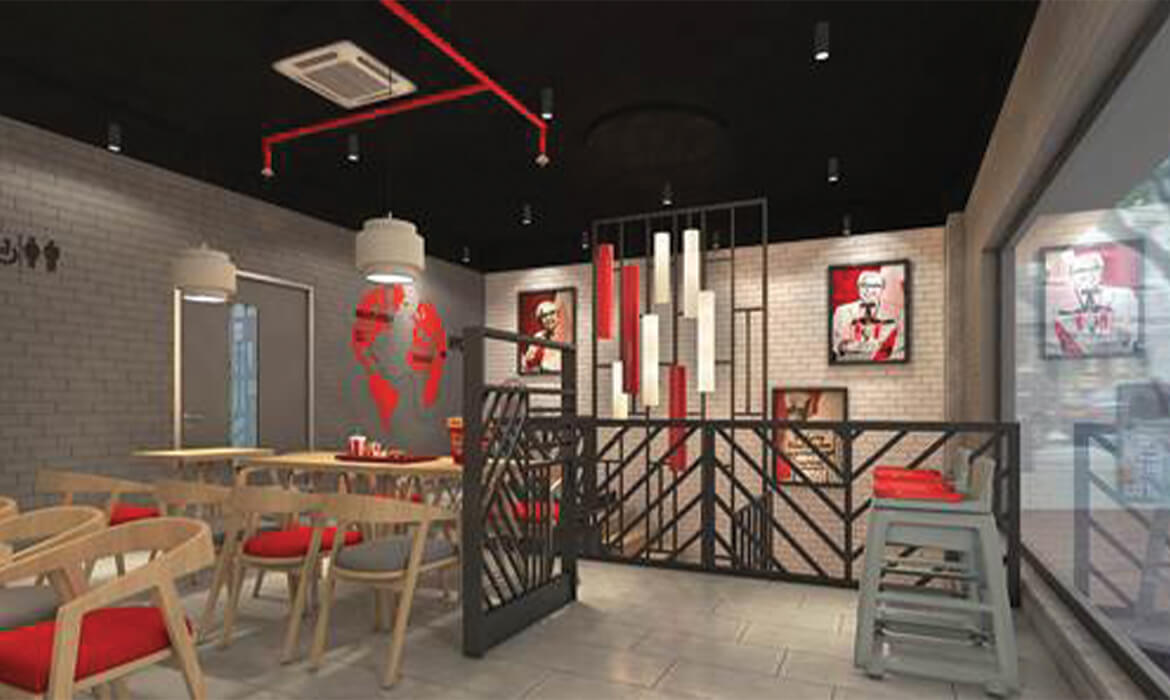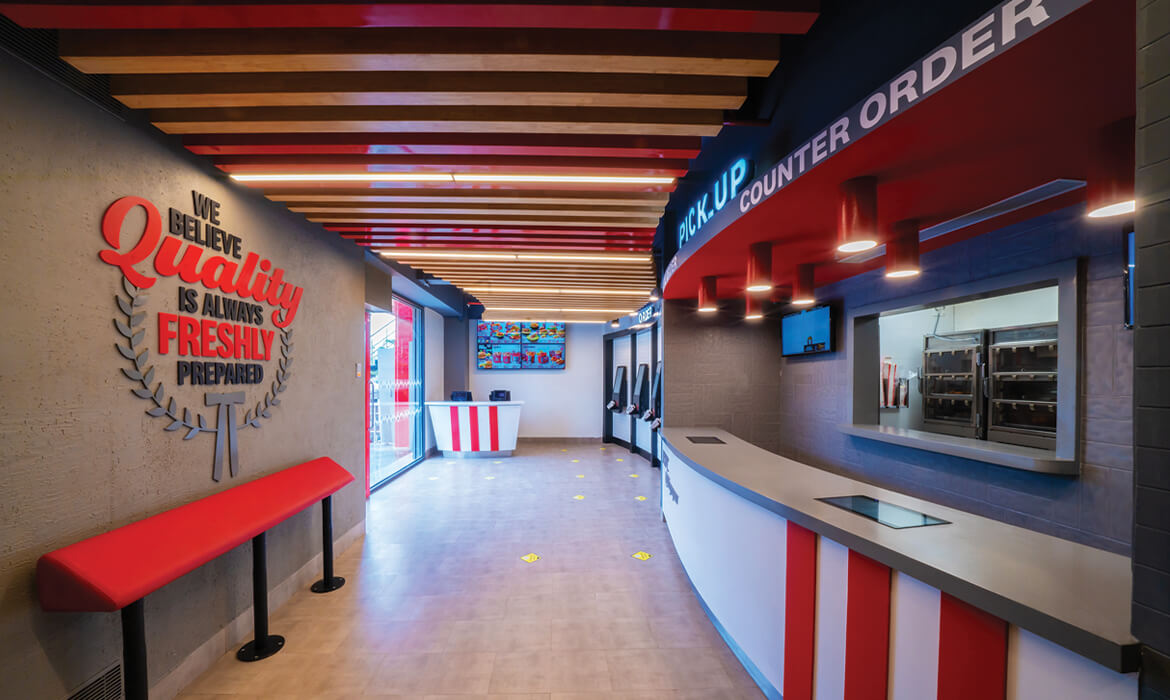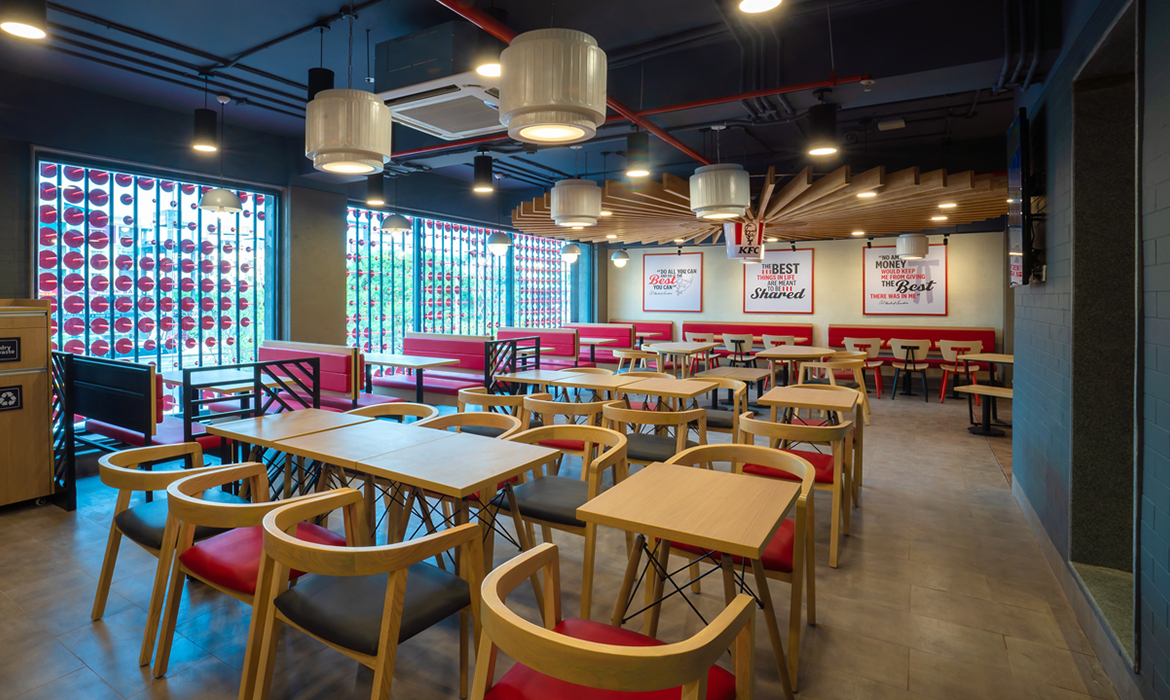 To celebrate the richness and diversity of India, we introduced the concept of a regional wall to anchor the restaurants firmly within the communities that are served. Kolam or Muggu are beautiful drawings and patterns that are intrinsic to the culture of India's South Indian states. They consist of loops painstakingly drawn with rice powder, chalk or powdered pigments around a grid of dots. Though this is an age old practice, scientists are now discovering the underlying mathematics and applying the geometry of Kolams in the fields of fractals, cryptography and even using them to describe complex protein structures.