India was going through an upgrade in the game of hockey by introducing Astroturf stadiums. An International hockey stadium was planned to be made in Mohali that displayed architectural grandeur and transform into a landmark for the city.
Solution
One of India's best hockey stadiums equipped with the latest Astroturf and a seating capacity of 13600.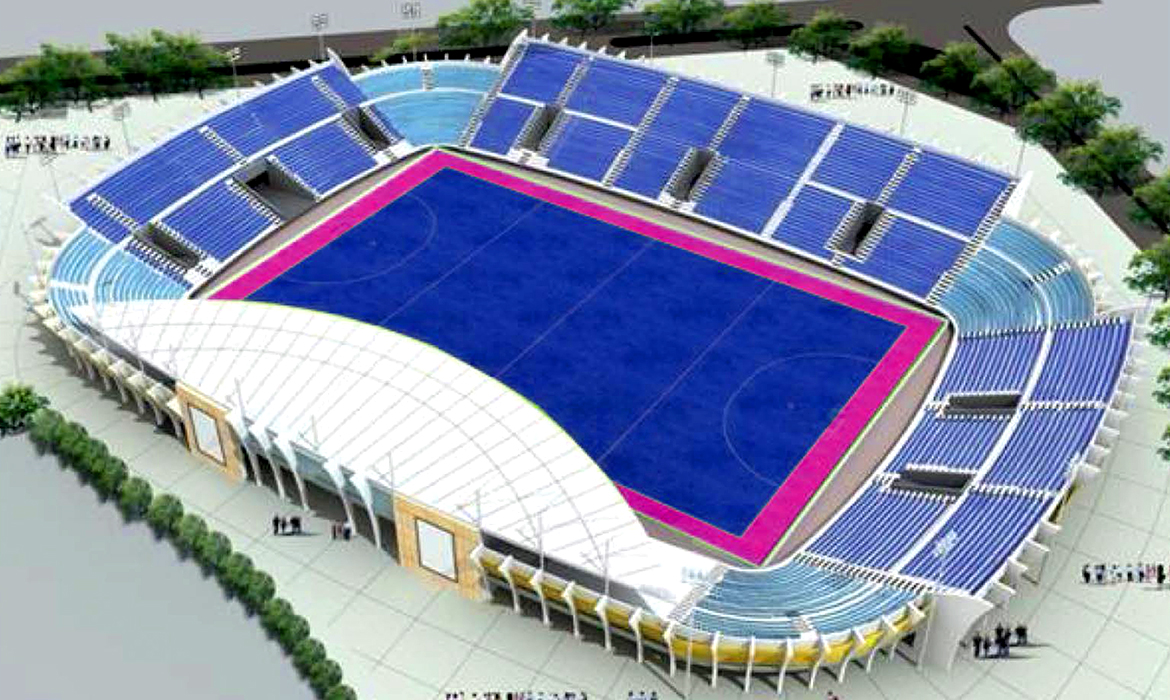 Story
India made its mark in hockey in the 1928 Olympic movement by winning the gold medal. During the early days, hockey was played on natural grass. In the 1970s FIH introduced synthetic surfaces popularly known as Astroturf for playing the game. Since these artificial turfs were extremely costly, most of the developing nations could not afford these facilities. As a matter of fact, India is still struggling to cope with this problem. The state of Punjab has played an imperative role in Indian Hockey. With the efforts of the Union Government and Punjab government a number of hockey stadiums with Astroturf have been set up in the state to encourage and improve the situation. The International Hockey Stadium at Mohali has been designed by Incubis Consultants (India) Private Limited, New Delhi in JV Association with Hopkins Architects Partnership LLP, London.
The stadium is located just opposite to Cricket Academy Stadium in a tight corner site of approx. 11 acres, bounded by two main roads and the third side by an irrigation canal. The stadium represents a turning point in India's construction industry where Innovation in concept, planning, structure and execution led to the completion of the project within budget and a timeline of 18 months. It also represents the revival of Indian Hockey at the National and International level and has already hosted several matches.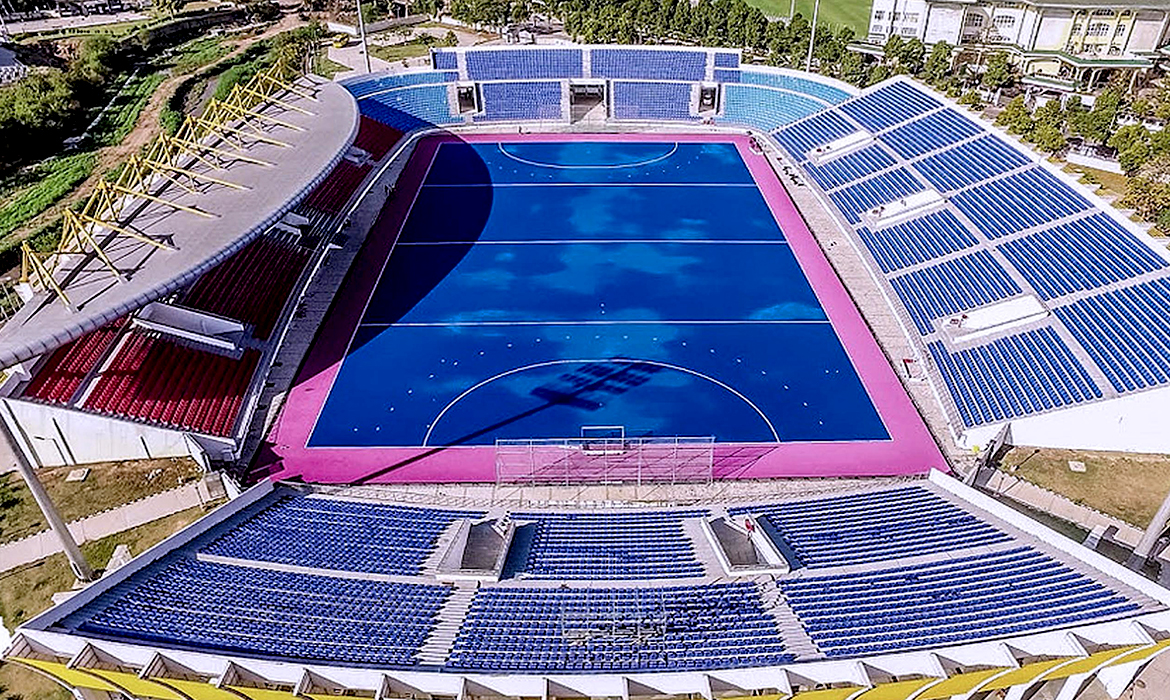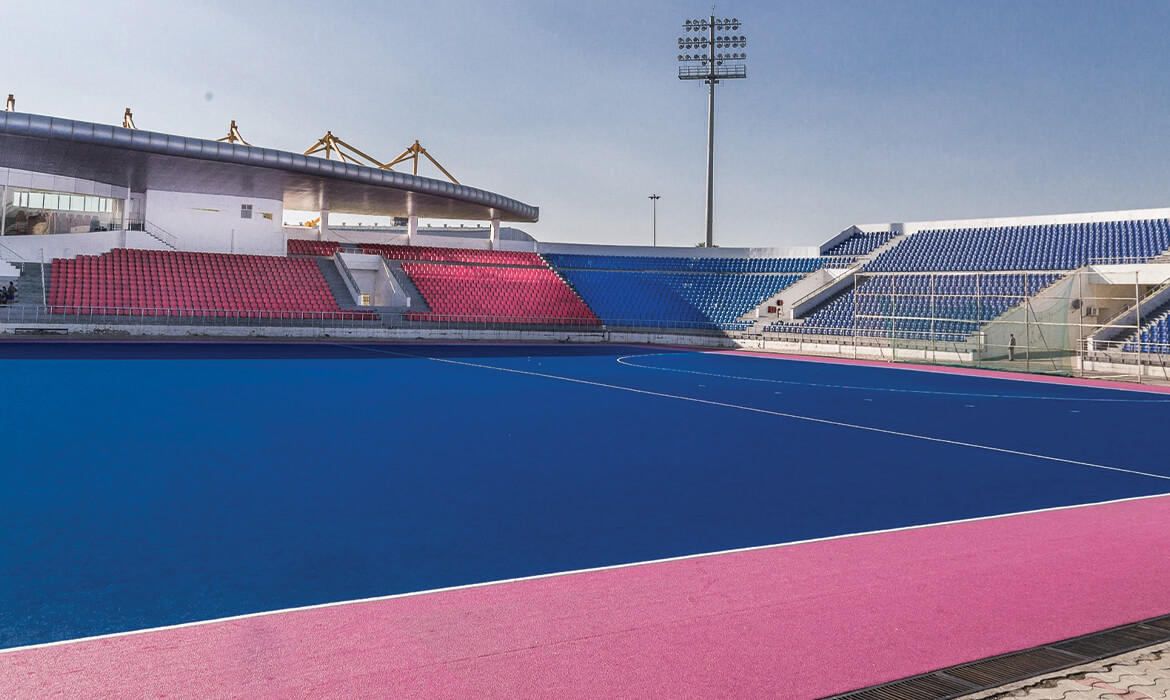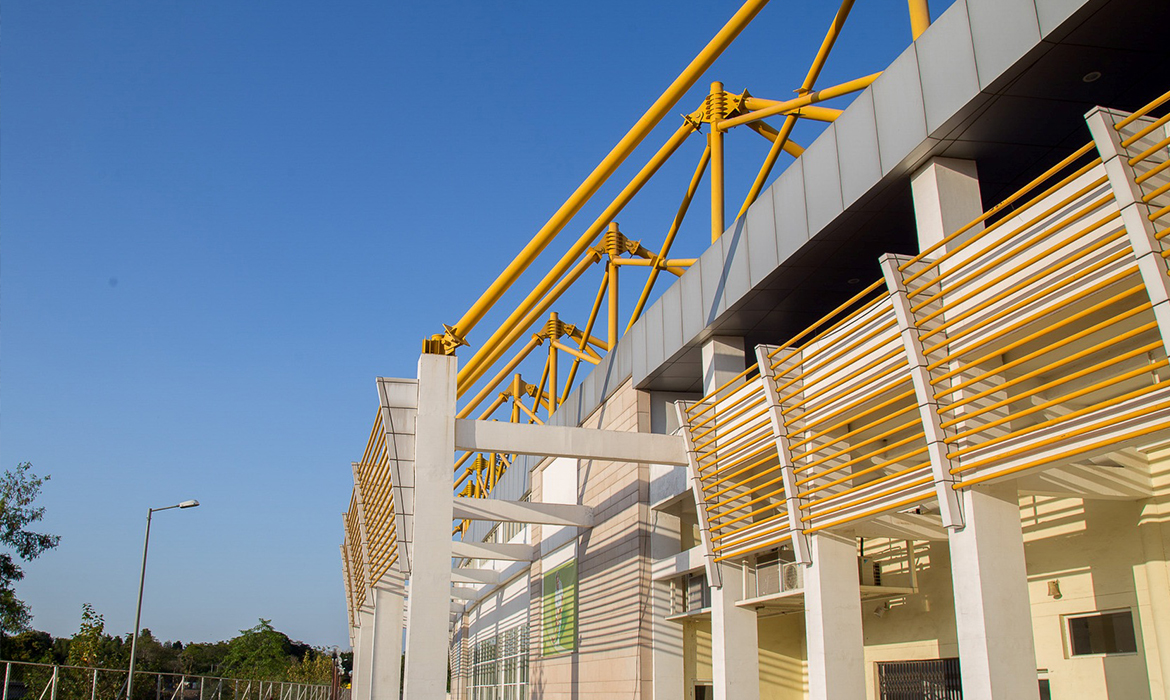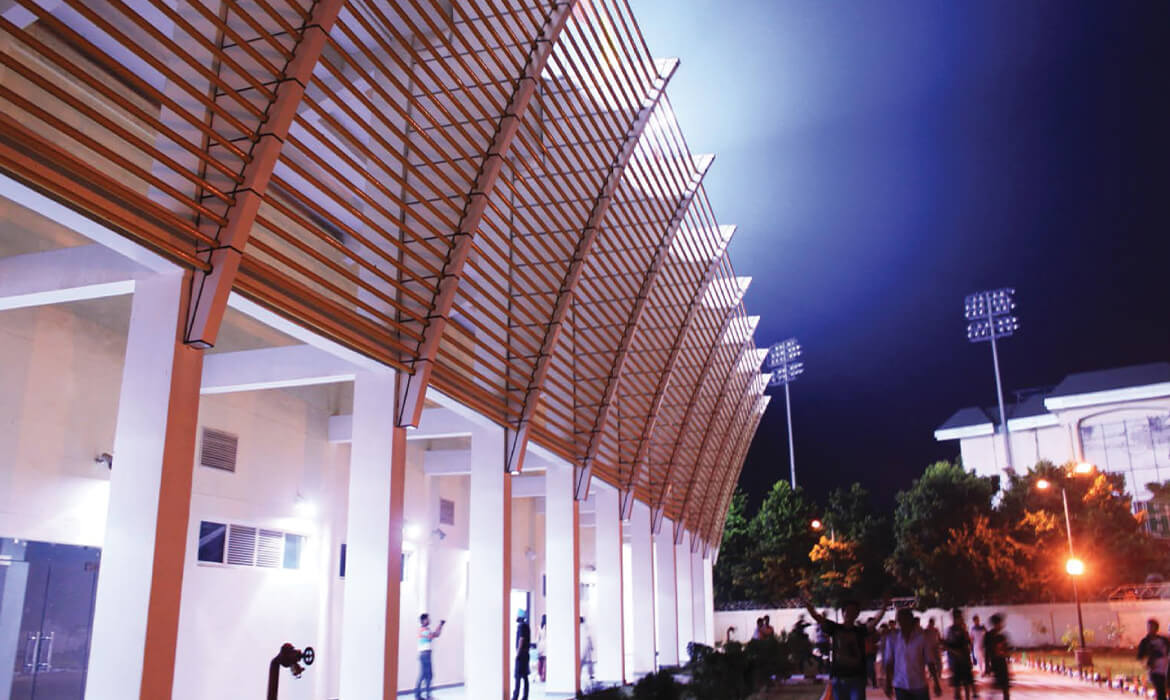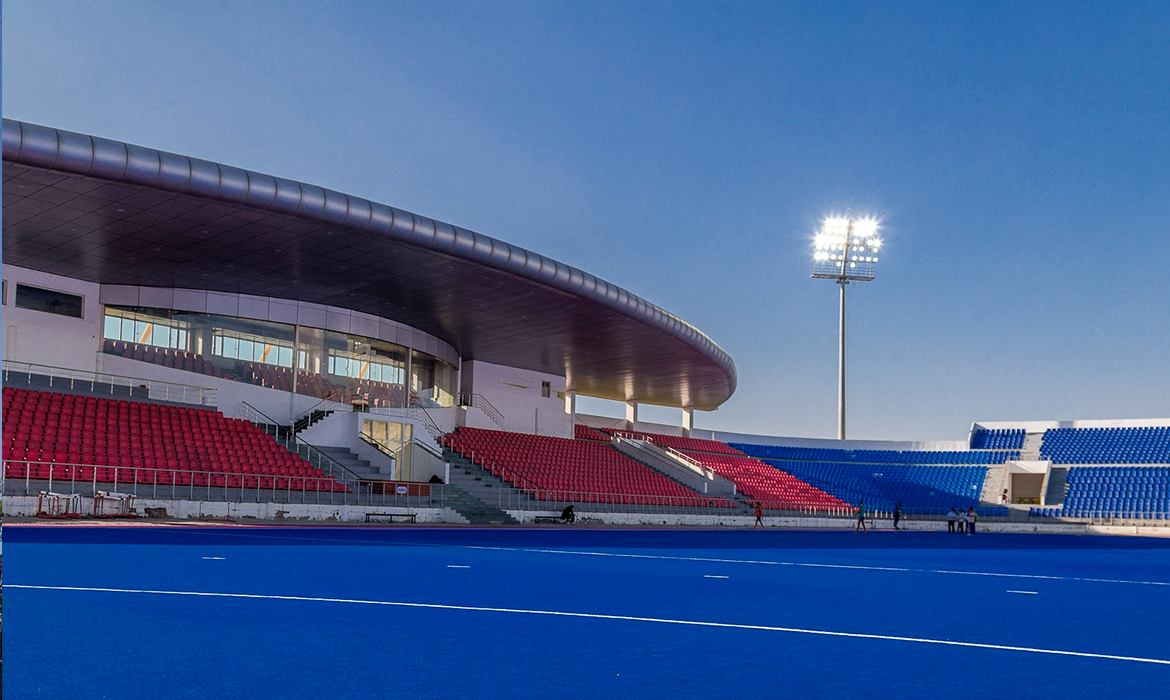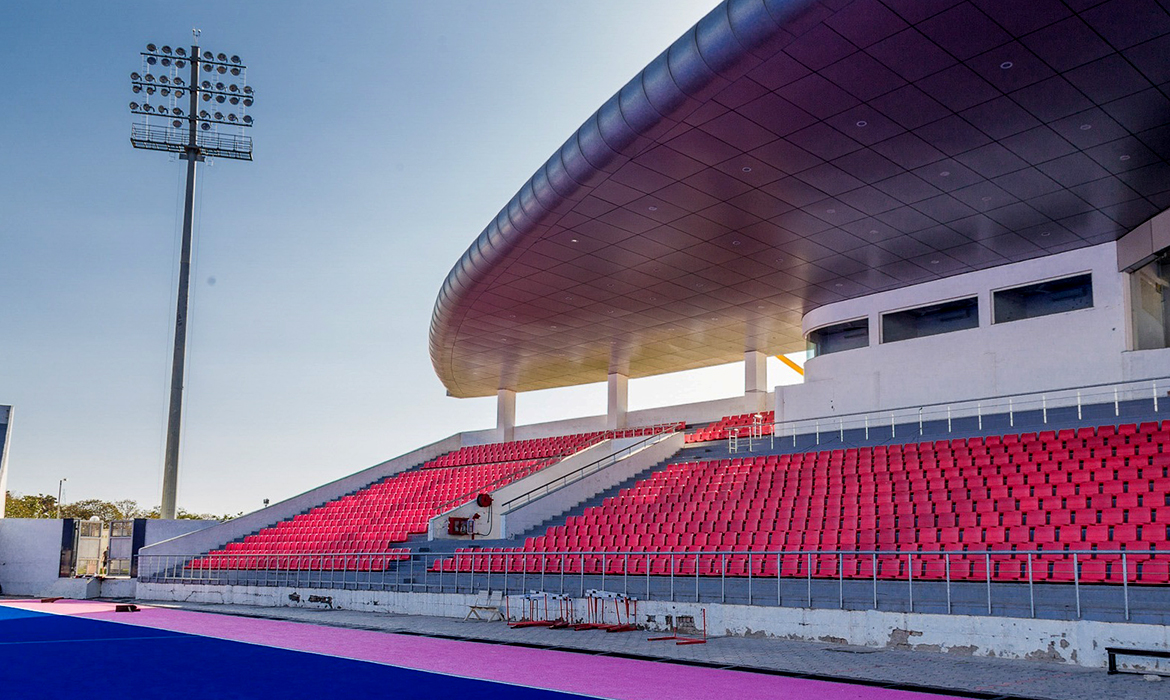 The main feature of the stadium is the sweeping arc shaped aluminum-clad cantilevered canopy which resembles an "aerofoil". This has been planned on the western edge to provide adequate shade for 2000 spectators in hot summer sun. This dramatic structure is of 19.5 meters at the mid span extending to 100 meters end to end. The stadium consists of four wings and all are separated by expansion joints resting on a combination of isolated footings and pile foundations laid out arched radials to achieve the fluid geometry of the stands. The facade has a louvered frame to give the structure a to help shade the radial walkway along the periphery.
It has a seating for approx. 13000 spectators of which around 2000 seats are under the canopy including an air conditioned enclosure for about 200. All related amenities such as lockers, cloak rooms, fitness areas are located under the stepped seating stands. The International Hockey Stadium is now a landmark for the beautiful city of Mohali with its unique cantilevered canopy and innovative facade.