Opportunity
The generic industrial steel and glass aesthetic of most airports feel monotonous, cold and often lack context- GMR-DIAL the airport operator wanted to infuse a 'sense of place' and bring in a memorable, high impact feature befitting the gateway to India's capital.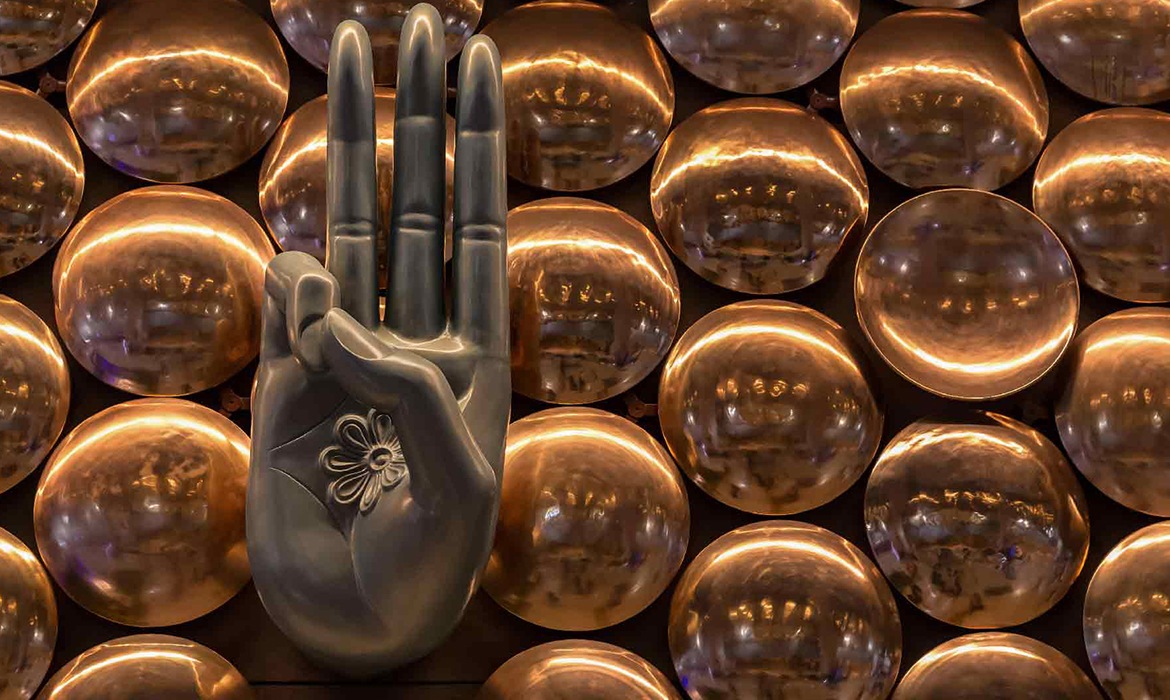 Solution
Branding in the form of iconic design installations supported by a system of environmental graphics that infuse a distinct Indian soul into modern architecture. Use the metaphor of an Indian Welcome to connect art and sculptural installation across the terminal to tell the story of India's vibrant culture.
Story
Airports today are giant machines that aim to deliver the efficient passage of people and cargo from one place to another. Some aspects are purely technical, such as aircraft maintenance or baggage handling, however, the key aspect is people – passengers and all those who work at airports – How people feel and experience airports becomes integral to the journey and this can be heightened by emphasizing metaphors of travel, transit and destinations beyond.
The International Terminal 3 at the Indira Gandhi International Airport (IGIA) in New Delhi, is the busiest airport in the country handling close to 70 million passengers a year. GMR envisioned a space that vibrantly reflected an Indian essence in modern architecture with the help of Incubis and their partners, Landor. Incubis' unique 'Experience Design' process bringing together user insight, local knowledge and innovative zeal to create unique spaces was paired with Landor's strategic brand consulting and design expertise.
Incubis together with Landor grasped this branding opportunity and initiated the creative process by mapping passenger touch points from a physical standpoint while understanding their state of mind at each juncture. Site visits revealed a compelling need for a sense of location and place. This led to the idea of adding soul to the steel and glass structure and transforming it from being just India's biggest terminal to an architectural and experiential masterpiece, rooted in Indianness through concepts of Atithi, Virasat andVishram all denoting an 'Indian Welcome'. Keeping the GMR brand identity as a starting point, several ideas inspired by the diversity of Indian culture, iconography and the performing arts were explored. Dance forms and gestures (Mudras), festivities, musical instruments and monuments were incorporated in many different ways.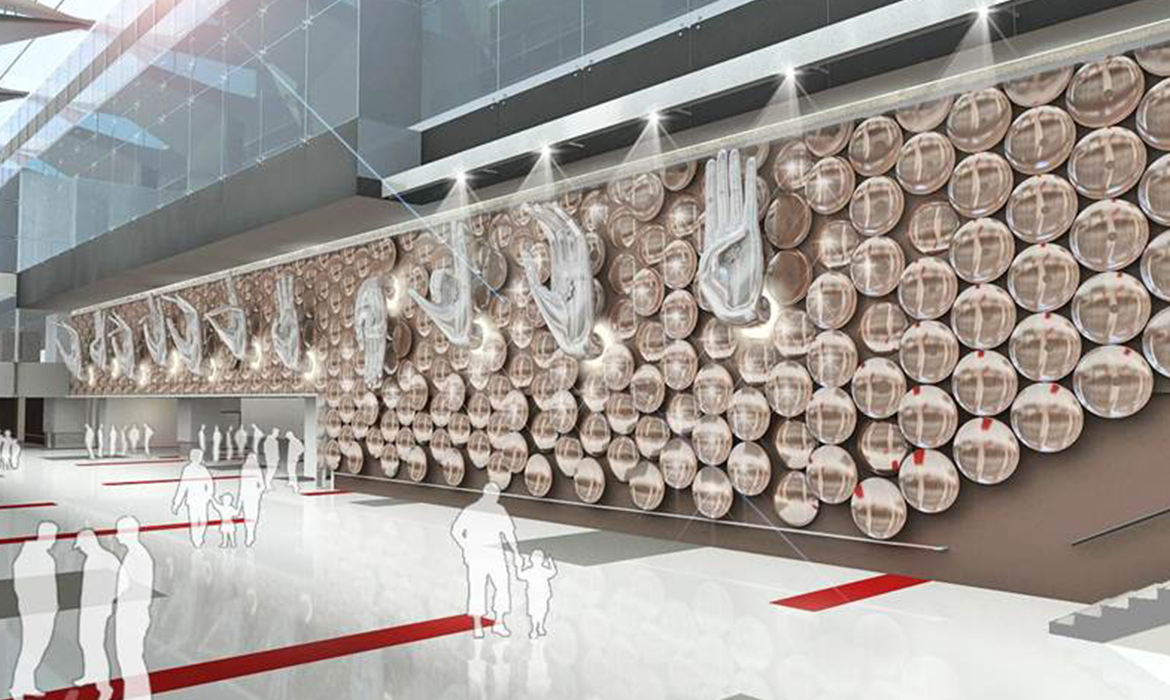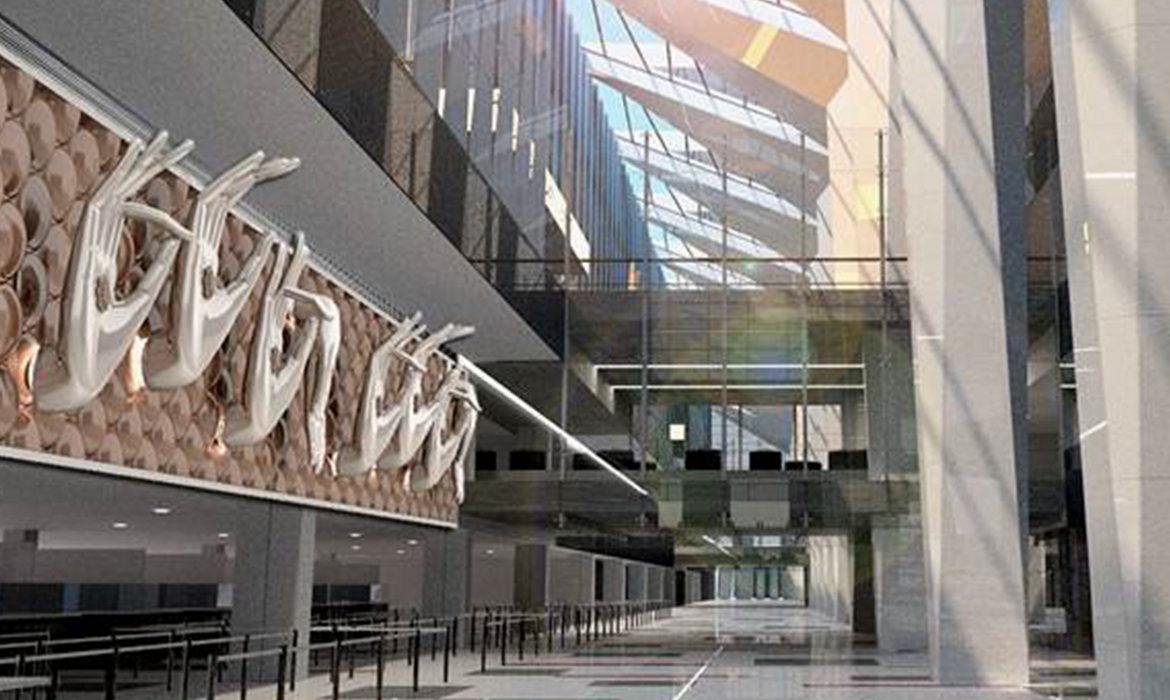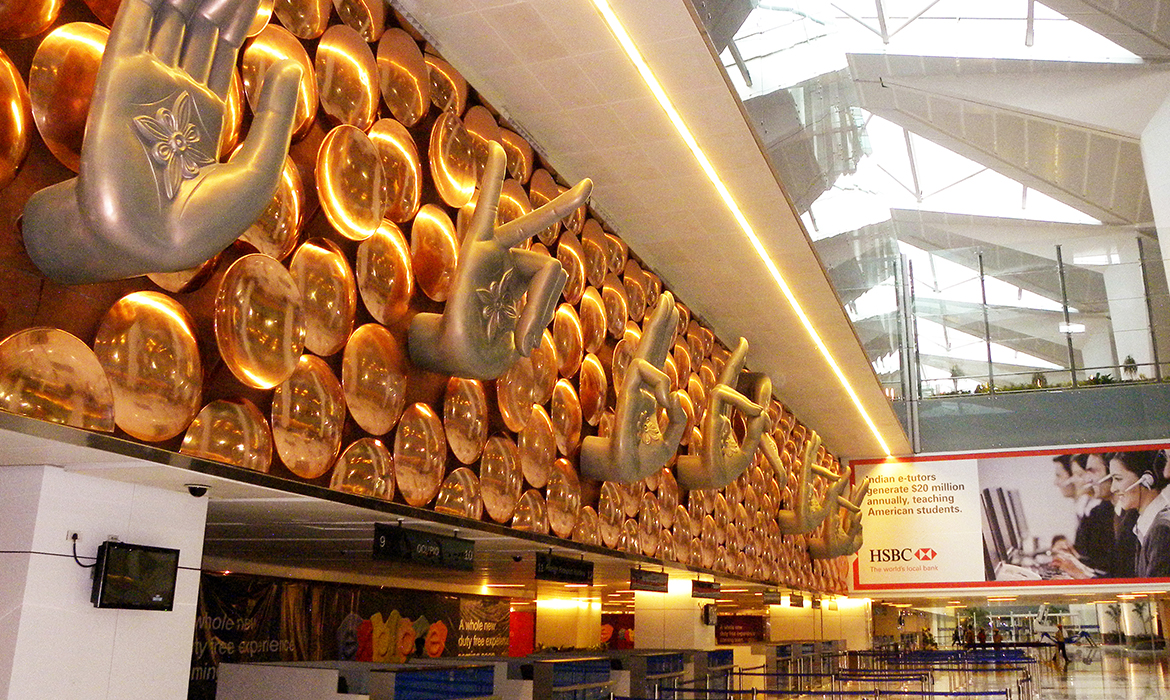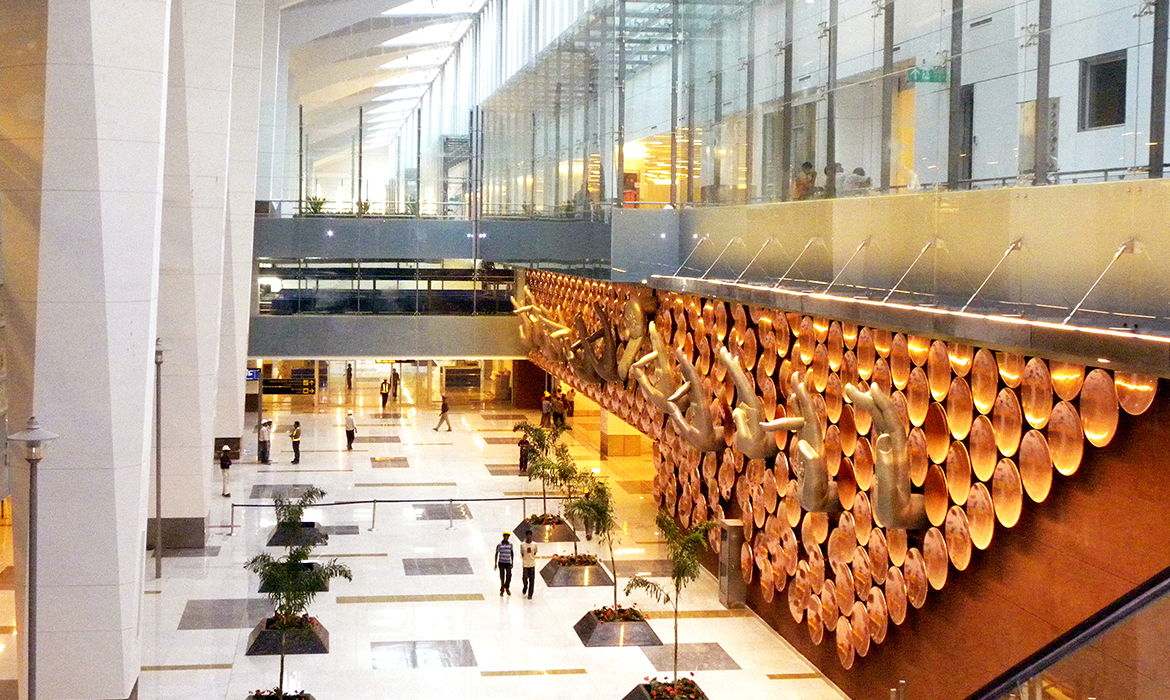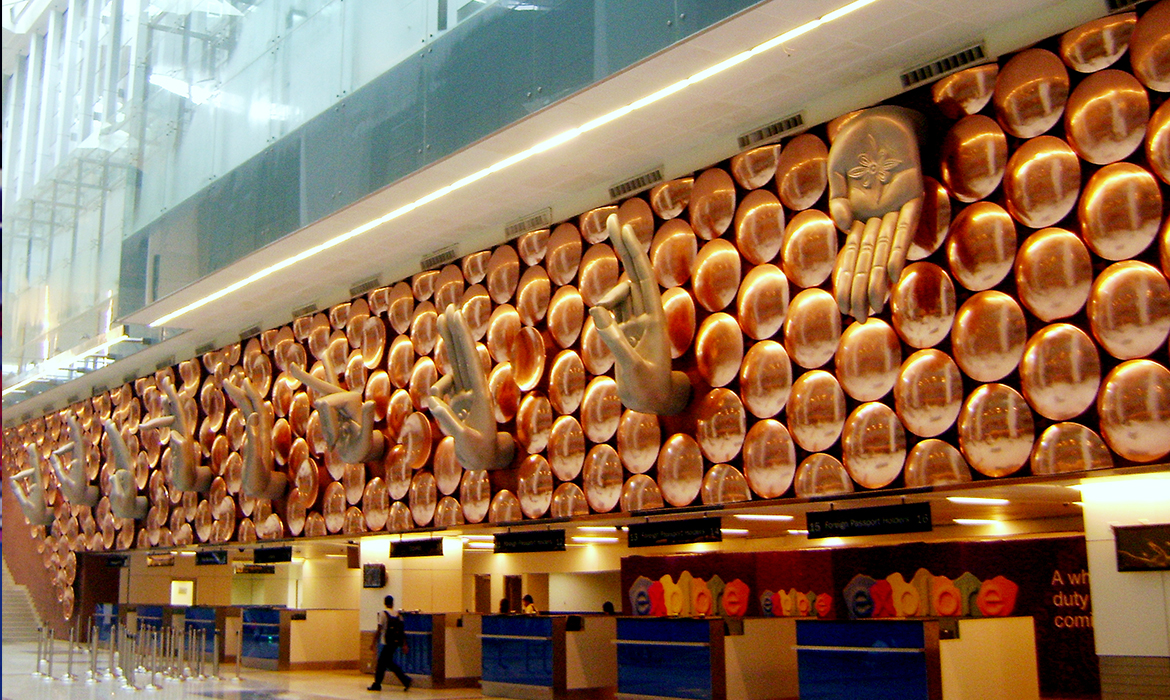 The Mudras are expressive hand gestures that form an integral part of Indian classical dance, yoga and visual arts. After several iterations of the concept, the final installation contained 23 hands, sculpted in a resin with a metal structure within, weighing around 150 kilos each, installed on a wall amidst 675 metal discs, stretched over 100 meters. Each of the mudras has a specific meaning, the most popular one being the Abhaya mudrā, the mudra of the Buddha. The Abhaya mudrā ("mudrā of no-fear") represents protection, peace, benevolence, and dispelling of fear. At the same time, these postures are secular anddraw-upon centuries of Indian cultural tradition.
Each hand had to be made in clay by traditional craftsmen – These were then converted into resin- based sculptures with a structural steel core by a molding process in collaboration with a team of craftspeople spanning over 4 states, and the coordinated work of over 300 artists, sculptors, and crafts- persons.
The Surya Namaskar sculpture too conveyed a similar ideology. The concept of Sun Salutation, is a yogic practice, incorporating a flow sequence of twelve gracefully linked postures.